1984 Allen Family Reunion Scrapbook
Once again we arrive at Eugene and Nevelle's place in Sweeny, Texas for another wonderful reunion. Everyone does such an excellent job at preparing the tables and food for enjoyment. Doesn't this make you hungry???
.
One thing that we do in between meals is to sit around and talk about old times. Here Joel is gathering family history data as MB, Charlene, Clarice and Olaf share about what life was like many years ago. Debbie and Jon look on. And you can't sit around and talk without food in hand, like homemake pies and candies.
.
After informal games in the prior reunion, and after the very popular 1984 Olympics, the Allen's had their own version of the Olympics. In this event, the Sack Race, Emily, Karen, Danna, Judy, Jon and Michelle are in the finals. Michelle won the gold medal!
.
For the Allen games, we divided up into three teams, then played as a team in the team events, or had representatives for the one and two person events. Here, Eddie, Linda, and Leslie wait for the ball as it comes back over the net. Some tough play by the team on the far side of the net (Debbie, Joel, Bruce, Kent and Joe Bob).
.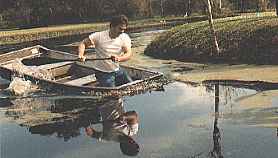 One of the individual events was the boat race. This consisted of one timed lap around the island in the pond. The bridge to the island served as the start/finish line. Steve demonstrates both power and grace as he glides his streamline watercraft through the water.
.
One of the most dramatic events you could ever see - the Dress-up Relay. Each member had to put on a pair of oversized pants, a large coat and socks (on first and over the hands) and then remove them. Joel, Linda and Olaf demonstrate the finer points of this event.
.
This would not be the Olympics without medals. Each of the winners received a medal - gold silver or bronze - to represent their finish in the event. Gordon, Leslie and Joe Bob are being presented the medals for their finish in the ping pong event.
.
Another favorite activity was to ride the All Terrain Vehicle (ATC) around the property. One could usually find Danna riding one of the younger children around and around. In this picture it looks like Danna and Roxane are worn out from the ridding!. Philip is approaching - must be looking for his turn. Gordon would bring the ATC in his truck from California.
.
There was always time for sitting and talking. MB, Eugene, Olaf, Joe Bob Jon and Debbie are enjoying one of the many beautiful days down in Sweeny. They must have been looking forward to the next years reunion - same time, same place!
.
---
Etherton's Home Page
Main Genealogy Page
Allen Family Reunion Page
---
Last Updated: 10/24/1997. Provided by